About Us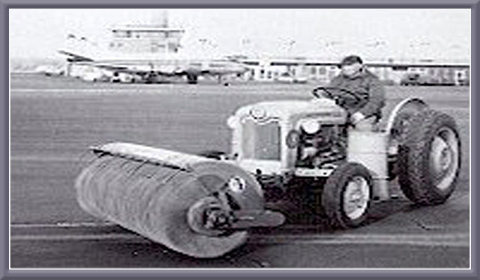 From clearing snow to painting lines for roads, M-B Companies Inc. manufactures the highest quality products for many industries. Utilizing the latest in innovation and technology, M-B is the trusted manufacturer of airport runway maintenance equipment, pavement striping equipment, various size truck, tractor and loader attachment equipment, replacement brushes and much more.
The origin of M-B Companies Inc. dates back to 1907. The company was formed by three German craftsmen, brothers Otto and Fred Meili and Paul Blumberg. Not surprising, they adopted the name "M-B", which is still used today. The Meili brothers were inventors and Blumberg was an expert metalworker. They started the company in a small shop in New Holstein, Wisconsin building agricultural implements.
The Meili brothers and Blumberg were inventing and building a variety of equipment from road graders to paint stripers. In fact, the firm was one of the first Ford dealerships in the State of Wisconsin. As the company evolved, its destiny as a broom and striper manufacturer became evident. M-B built its first broom (a horse drawn model) in 1922.
Through some ownership changes, M-B has enjoyed steady growth, including the construction in 1974 of an additional facility in Chilton, Wisconsin. In 2003, M-B acquired the Pro Chip family of wood and brush chippers. In 2004, M-B acquired the Lafarge Road Marking Equipment Division, located in Montgomery, Pennsylvania. In 2011, M-B released five (5) new products in the Airport Snow Removal Equipment market. In 2017, the Pavement Marking Division relocated into a new facility located in Muncy, PA that will service customers nationwide. M-B continues to focus on key niche markets and providing equipment to meet the needs of independent contractors, governmental agencies, and other road, turf and airport maintenance organizations around the world.
M-B Companies, Inc. was acquired by the Aebi Schmidt Group in 2018. The Aebi Schmidt Group is a global leader of smart product systems and services for the treatment of mission-critical infrastructural and agricultural areas.
 Aebi Schmidt Group Mission & Values
The extensive range of products comprises our own vehicles as well as innovative attachable and demountable devices for individual vehicle equipment. Decades of wide-ranging experience make the Aebi Schmidt Group a both reliable and competent partner to customers from all over the world.
Currently, M-B operates out of 4 divisional locations.
Airport Snow Removal Products Division
201 MB Lane
Chilton, Wisconsin 53014
Pavement Marking Division
95 Blessing Drive
Muncy, Pennsylvania 17756

Attachments Division
1615 Wisconsin Avenue
New Holstein, Wisconsin 53061

Replacement Brushes Division
1217 E. Chestnut Street
Chilton, Wisconsin. 53014